At Mendham Golf & Tennis Club, we are proud of the quality of our sports facilities and in recent years have invested in both our golf course and practice facilities. A big part of the equation in private club value today is an opportunity to enjoy "golf experiences" that require less time than does 9 or 18 holes. At Mendham, we understand that and believe our practice and teaching facilities enhance the membership experience. We enjoy short game, full swing, and expansive putting practice areas all with close proximity to the clubhouse and 1st and 10th tees!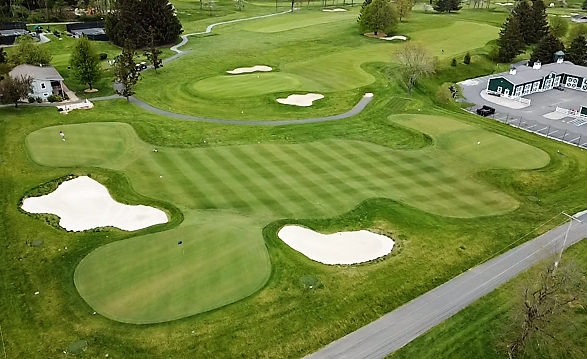 Carrying this commitment forward, MGTC wants to grow the golf experience for the enjoyment of your whole family. The Links at Mendham, with 3 greens and multiple tee options for play to those greens. This is not a practice area, but a play area. The vision is that new golfers who may not be ready for the full course experience, can be introduced here. Novice adults that might enjoy a little golf before or after lunch or dinner will enjoy time here. Families with children hungry for a "real" golf experience can provide that here. Members have fun settling a score or earning bragging rights at The Links. Or perhaps our very seasoned members that are beginning to struggle with the full course due to age or physical limitations can extend their enjoyment of MGTC for years to come on The Links!
The Links at Mendham harkens back to the simple origins of golf in America - enjoying the game and camaraderie of one's friends. In February, 1888, a man named John Reid, a transplanted Scotsman, after ordering a set of golf clubs from Tom Morris back at St. Andrews, gathered together a small group of friends and set up three short holes in a cow pasture in Yonkers, New York, the first recorded golf course in the United States. After playing through that summer, the group formed the St. Andrews Club. They were known as the "Apple Tree Gang" for the nearby tree on which they hung their coats and beneath which they gathered following golf for the refreshment of libations and storytelling.
"The Links" - celebrating golf's simplicity and origin; connecting (as links do) our Club's past, present, and future with a golf experience all can enjoy.